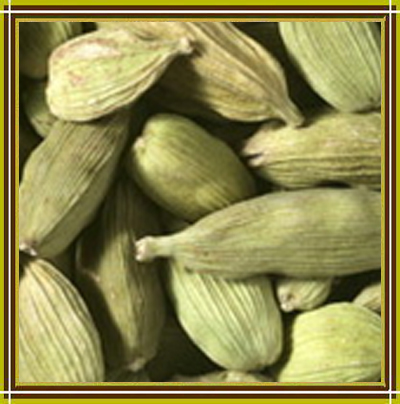 Common Name

Cardamom
Malabar cardamom
Elettaria cardamomum
Cardomomi Fructus
Amomum cardamomum
Sha-ren (Chinese name)
Cardamom is a perennial plant; the simple, erect stems grows about 2 to 3 metres high. The leaves are dark green and glabrous above, lighter and silky beneath. The small, yellowish flowers grows in loose racemes on prostrate flower stems. The whole fruit(pod) is a three-celled capsule holding up to 18 seeds.
Cardamom also called "Queen of Spices" because of its very pleasant aroma and taste. It is the third most expensive spice in the world, after saffron and vanilla. A seed pod with an exotic fragrance, used in curries and many Oriental dishes. It is used in coffees and teas specially, for its agreeable aroma and flavor. Cardamom added to milk neutralizes its mucus forming properties and it detoxifies caffeine in coffee. It is an ingredient in Christmas cookies, Danish and Swedish cookies, coffee cakes, pastries, and candies. It is also used and adds a delightful essence to applesauce, grape jelly, sliced oranges, and fruit salads.
Cardamom is very helpful to counteract acidity of the stomach and stimulate digestion as it contains a large amount of volatile oil, and relieves discomfort of flatulence. Its also used to treats gastralgia, enuresis (involuntary urination), spermatorrhea, phlegm, bronchitis, asthma, colds, cough, and hoarse throat.
(For more details, present stock and pictures inquire now)