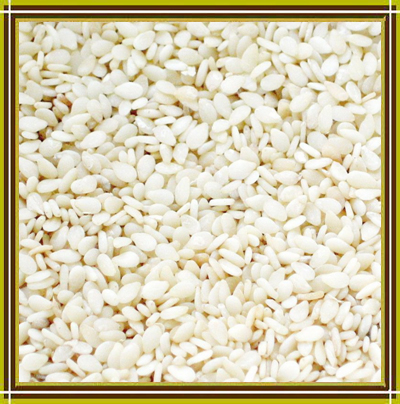 Botanical Name: Sesamum indicum L.
Sesame is a very old cultivated crop. The plant grows up to height of 6 feet. The leaves are ovate to lanceolate or oblong while the lower leaves are trilobed and sometimes ternate and the upper leaves are undivided, irregularly serrate and pointed. The sesame seeds grow inside pods on the plant, which can be obtained after drying the plant.
Sesame seed in its various forms are used in a wide variety of applications from food processing to the production of pharmaceuticals and cosmetics. Sesame seed comes in a various varieties and forms such as natural white, washed/hulled and mixed crushed form. Sesame seeds are rich in oil, proteins and vitamins B1 and E. The sesame seeds are cleaned and filtered before being processed. Sesame seed has a mild, nut-like when the seed is roasted, used Worldwide to add texture and flavor in various kinds of food products such as Burgers, Bread, breadsticks, cookies, chocolate and ice creams.

(For more details, present stock and pictures inquire now)